Kazaar and Dharkan bring most intense coffee experience
Nespresso heralds new heights of sensory intensity with the Grands Crus Kazaar and Dharkan. With these two unique and powerful additions to its permanent range of coffees, Nespresso has refined the art of crafting intensity of flavour and aroma to bring Nespresso connoisseurs and coffee lovers new possibilities for exceptional sensory experiences.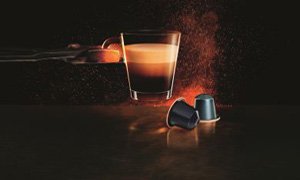 Masterful techniques to maximize flavour and aroma
By breaking coffee paradigms Nespresso coffee experts have been able to push the limits of the Nespresso intensity scale (from 1 to 10) with Kazaar and Dharkan.
Kazaar is an authentic and powerful Grand Cru with a raw intensity of 12. The groundbreaking blend was first released in 2010 as a Limited Edition Grand Cru, and then revived in 2012 for a short period of time due to widespread acclaim from Nespresso Club Members and coffee connoisseurs.
The distinctive origins, original blending method and unrivalled strength of Kazaar have created a one-of-a-kind taste experience. To achieve an astonishing intensity, Nespresso coffee experts took the unconventional approach of blending two Robusta coffee varieties. A high quality Robusta from Guatemala was paired with the "Conillon" Robusta from Brazil, never used before in a Nespresso Grand Cru. Kazaar's roundness and sweetness derive from the addition of a first-class Arabica sourced from the Cerrado region in Brazil.
A smooth drying approach is employed to avoid potential bitter notes, while gentle split-roasting ensures that the aroma of each origin can fully unfold. Completing the innovative process, a new grinding technique retains the blend's strength and complexity without the unpleasant bitterness that is often found in other strong coffees. With woody, spicy notes and a hint of caramel, Kazaar's bittersweet aroma is balanced by a dense and creamy texture.
Dharkan also breaks the existing Nespresso scale, with an intensity of 11. The blend of washed Arabicas from Latin America and Asia fully unveils its powerful, complex character thanks to long roasting at low temperatures, a technique that was also used with the highly successful Limited Edition Crealto. With an in-cup texture that is silky and smooth, Dharkan reveals strong roasted notes with hints of bitter cocoa powder and toasted cereals. Like Kazaar, Dharkan is best served as a ristretto (25ml) but can be equally enjoyed as an espresso (40ml).
Nespresso expands Grand Cru range to 21
In 2013 Nespresso increased its Grand Cru range from 16 to a total of 21 distinct coffees, broadening the spectrum of intensity and flavour to delight and suit the various taste preferences of its Club Members and coffee connoisseurs worldwide.
With Kazaar and Dharkan, Nespresso has expanded its offering of intense Grand Cru coffees from three to five, joining Ristretto (intensity 10), Arpeggio (intensity 9) and Roma (intensity 8).
Nespresso also widened its range of mid-intensity coffees with the permanent addition of the most popular flavoured Variations. Vanilio, Ciocattino and Caramelito fuse natural flavours with the smoothness of Livanto (intensity 6).
In addition, Nespresso refined its range of Lungo Grands Crus, with Linizio Lungo (intensity 4) to replace Finezzo Lungo. Characterised by a rich, caramelised smoothness and notes of cereal and malt, this fusion of South American Arabicas was developed to create a longer cup that blends well with milk as the perfect coffee to start off the day.
Related stories
Crealto unites coffee expertise with high gastronomy
Nespresso adds three most popular Variations to its permanent Grand Cru range
Linizio Lungo: a brand new Grand Cru to start off the day
Kazaar Limited Edition coffee is back by popular demand