Club Members' favourite Nespresso Limited Edition now unlimited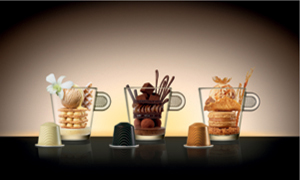 Thanks to the direct and enduring relationships and dialogue it nurtures with its community of Club Members and coffee connoisseurs worldwide, Nespresso continues to satisfy and surprise consumers' demands for highest quality gourmet coffee.
In response to the overwhelmingly positive feedback received from Nespresso Club Members to the Limited Edition Variations Vanilla, Dark Chocolate and Caramel, Nespresso is now adding these to its permanent Grand Cru range.
Re-introduced as Vanilio, Ciocattino and Caramelito, the three Variations Grands Crus expand the Nespresso permanent range to include a total of 19 unique and exquisite Grand Cru coffees.
Natural aromas fused with Livanto Grand Cru
For the creation of these three Variations Grands Crus, Nespresso Coffee Experts combined delicious natural aromas with the smoothness of the Livanto Grand Cru. This full-bodied Grand Cru coffee is made from Arabica beans sourced from Costa Rica and Colombia that have been medium roasted for a harmonious profile that optimally complements different flavours.
Smooth and silky on the palate, Vanilio offers a balanced harmony between the velvety aromas of vanilla and the mellow flavour of the Livanto Grand Cru. Ciocattino combines dark and bitter chocolate notes with the caramelized roasted flavours of the Livanto Grand Cru for a rich combination. Evoking the creaminess of soft toffee, the sweet caramel flavour of Caramelito softens the roasted notes of the Livanto Grand Cru.
Three unique profiles for a variety of tasting moments
Each of the Variations has an intensity level of 6 on a scale of 1 to 10 and is best enjoyed when served as a 40ml espresso. They also blend delightfully with milk, which adds sweet, mellow notes to each of their unique profiles.
For further gourmand tasting moments, Nespresso has developed a delectable collection of hot and cold coffee creations based on the Variations Grands Crus. These include Pavlova Vanilio Iced Cappuccino or, for chocolate lovers, the Ciocattino Grand Cru as an iced choco granite coffee, a perfect refreshing and thirst-quenching recipe for this summer. The full recipes are available at www.nespresso.com/variations.
Related story
Nespresso invites coffee lovers to vote on upcoming Variations Club Favourite