Building on 25 years of capsule recycling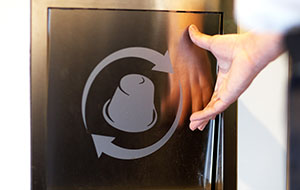 As a company that relies on aluminium to protect the freshness and aromas of its highest quality coffee, Nespresso recognises the need for a responsible approach to the use of aluminium and its obligation to preserve natural resources.
Nespresso has been investing in its dedicated collection and recycling schemes since 1991, when it launched its first recycling initiative in Switzerland. In the 25 years since then, Nespresso has continued to take an active stance in developing innovative solutions that are tailored to making recycling as easy and convenient as possible for its customers.
At the end of 2015, Nespresso reached a capsule collection capacity of over 86% in 39 countries, and aims to increase this capacity to 100% by 2020.
Giving a second life to Nespresso Grands Crus
Nespresso capsules are made from aluminium, a material that is infinitely recyclable. The technical properties and composition of the light-weight, versatile metal means it can be recycled again and again. Nespresso capsules are recycled into soda cans, bicycles, computers – and even into new capsules.
The coffee from Nespresso Grand Crus is also given a second life. Used grounds are separated from the aluminium, and are transformed into biogas, biofuel or a nutrient-rich compost.
Recycling for the future
Since consumer participation is essential to make recycling a success, Nespresso is committed to making it as easy and convenient as possible for consumers to recycle their used Grand Cru capsules.
In many countries, the established collective recycling schemes are ill-equipped to separate lightweight aluminium from other packaging for revalorisation. Typically, small metal items are separated from mixed recyclable materials and are sent to landfill or incineration.
Nespresso brought together industry leaders to address this issue. Working with several municipal authorities, Nespresso and its partners developed an innovative technical solution that enables recycling operators to recover small steel and aluminium items from mixed waste. Following a successful pilot programme in France, Nespresso is working with municipal and national authorities around the world to help them upgrade their operations with this technical solution.
Nespresso innovation in capsule collection and recycling
The Nespresso app for Apple, Android, Blackberry and Kindle helps Club Members to find the closest collection point to return their used capsules for recycling, in 20 countries as of 2016.
A network of hundreds of thousands of capsule collection points allow customers to return capsules to Nespresso boutiques, select retail partners and parcel collection points.
Recycle@home doorstep collection by courier companies and postal services. In 15 countries, Club Members can have their used Nespresso capsules picked up when new capsules are delivered.
Extending reach to rural areas through schemes with national postal services. In Australia, specially designed Australia Post Nespresso recycling satchels can be posted at any one of Australia Post's network of 4,000+ post offices and 15,000+ street post boxes, providing a nationwide recycling option, regardless of where consumers live.
Setting precedents with own recycling systems. Nespresso set an industry precedent as the first private company to launch an independent recycling system in Denmark. In the UAE Nespresso established its first recycling system in the Middle East.
Related stories
Nespresso celebrates 25 years of recycling by turning old capsules into new products
Nespresso expands recycling partnership with UPS from 20 states to the entire continental US
Boosting the benefits of aluminium at Nespresso
Best Environmental Initiative: Nespresso France wins award for its recycling strategy
Used Nespresso coffee grounds will find a second life as biogas in Switzerland
Nespresso takes leadership in recycling in Denmark
Nespresso joins forces with Australia Post to make recycling more accessible