A Second Life for used Nespresso capsules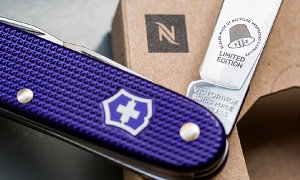 Since its beginnings, Nespresso has initiated and supported numerous initiatives to give new life to its used aluminium capsules. In 1991, it launched the world's first capsule recycling program in Switzerland, shortly after introducing the first aluminium capsules in 1986. As of mid-2016, Nespresso has put in place capsule collection systems in more than 36 countries worldwide.
Aluminium is not only the best material available to protect the freshness, taste and quality of Nespresso Grand Crus. In addition, aluminium has the unique advantage of being infinitely recyclable, and can be further used in products requiring strong lightweight material. An estimated 75% of all aluminium ever produced is still in use today.
In 2015, Nespresso launched its Second Life pilot project in Switzerland to create new products from recycled Nespresso capsules. The initiative is part of the company's Positive Cup sustainability strategy. In order to achieve its target of for 100% sustainably managed aluminium by 2020, Nespresso is creating an end-to-end loop for the aluminium that it uses.
Celebrating 25 years of recycling with Victorinox
To celebrate its 25-year-old history of recycling, Nespresso has partnered with other recycling leaders to revive iconic Swiss items made from recycled capsules. The first item is a limited edition version of the iconic "Pioneer" Victorinox Swiss Army knife. The aluminium cladding of the pocket knife is made completely from recycled Nespresso capsules. The weight of the aluminium cladding on these knives is equivalent to the amount of aluminium of 24 Nespresso used capsules. This limited edition is available in the colour of one the most popular Nespresso Grands Crus, Arpeggio.
Sustainability and environmental protection are rooted in both companies as a core element of their business strategies. Carl Elsener, Victorinox CEO, and Nespresso CEO, Jean-Marc Duvoisin, explained: "With this collaboration, we hope to encourage everyone to recycle aluminium capsules. This partnership also underlines our common values such as the passion for innovation and the quality of Swiss design."
"I am delighted to celebrate 25 years of recycling aluminium Nespresso capsules in partnership with a Swiss iconic business. Victorinox combines tradition, innovation, precision and lasting commitment to sustainability, said Pascal Hottinger, Director of Nespresso Switzerland.
The limited edition Pioneer Nespresso Arpeggio Swiss Army Knife is available for purchase in Switzerland only. Sales start in August exclusively at Swiss Nespresso boutiques and online in Switzerland, at the Victorinox Online Shop Switzerland and in Victorinox Stores in Switzerland.
Growing the Second Life collection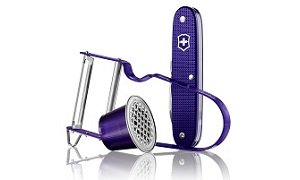 The Nespresso Second Life Collection will include further products made from recycled capsules. In a collaboration with the Swiss company Zena, the iconic "Rex" vegetable peeler will be issued in a limited edition version made from recycled Nespresso capsules in the colour of the Arpeggio Grand Cru.
Joining the Second Life project this year is Constellium, a world leader in the manufacturing of high-quality aluminium products and solutions. Constellium's facility for aluminium casting and rolling in Singen, Germany will be part of the transformation of used Nespresso capsules into new ones, as well as into iconic limited edition products.
"We are extremely proud to be working hand in hand with Nespresso to drive sustainability and innovation in Europe," said Catherine Athènes, Constellium Sustainability Leader. "Recycling has always been an integral part of our business model and we are delighted that Nespresso selected us to lead the recycling of its coffee capsules."
In 2012, Nespresso began using recycled aluminium capsules in the manufacture of certain side panels for its PIXIE machine. Last year, Nespresso launched its Capsule to Capsule project in Switzerland to make new capsules from old ones. Following extensive testing, Rosabaya Grand Cru capsules made from 100% recycled Nespresso capsules are being rolled out in Switzerland as of 2016.
Related stories
Boosting the benefits of aluminium at Nespresso
Nespresso expands recycling partnership with UPS from 20 states to the entire continental U.S.
Aluminium Stewardship Initiative unveils new global standard for aluminium sustainability
Best Environmental Initiative: Nespresso France wins award for its recycling strategy