First company to launch independent recycling system in Denmark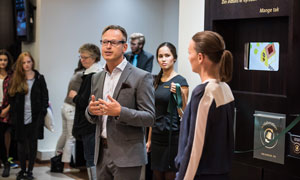 As of 1 September 2014, Nespresso capsules can be recycled in Denmark. Nespresso is the first approved company in Denmark to establish an independent system for the collection and recycling of the company's coffee capsules. This initiative is made possible by a new law enacted by the Danish Ministry of Environment that permits private companies to collect packaging and allows the creation of private recycling schemes.
Speaking at the launch of the recycling program at the Nespresso Boutique in Copenhagen, the Danish Minister of the Environment, Kirsten Brosbøl established Nespresso's role as a forerunner by referring to the new law as "the Nespresso model".
Since the opening of the first Nespresso Boutique in Denmark in 2007, Nespresso has been committed to enabling capsule recycling in the country. Until now, Nespresso capsules were not accepted by municipal recycling facilities and it was not legal for private companies to establish private recycling systems.
"Aluminium is not only the best material to protect our coffees against oxygen and sunlight that can reduce the flavours and aromas of our Grands Crus, it is also infinitely recyclable. It is not enough for us to deliver a high quality product; Nespresso is also highly committed to using its resources sustainably and helping our Club Members do the same through recycling," said Johan Bäckström, Country Business Manager for Nespresso Denmark. "It is a great achievement which other companies will benefit from. This is why we have been working intensively for the past three years to have the law in Denmark changed."
Giving capsules a second life through recycling and composting
With its new recycling program, Nespresso sets a precedent for other companies in Denmark to follow suit, giving its aluminium capsules and their contents a second life through recycling and composting.
Consumers in the country can now return their used Nespresso capsules at Nespresso boutiques and more than 30 recycling points across Denmark where Stena Recycling collects the used capsules.
Spent coffee grounds are separated from the used capsules and transported to a communal composting facility. There, the coffee grounds are mixed with other biodegradables components to create compost that is used by local farmers to enrich their soil. At the same time the aluminium from the capsules is smelted for reuse in the manufacturing of new aluminium products such as bicycle or car parts.
Managing aluminium sustainably
Capsule recycling is an integral part of the overall Nespresso sustainability commitment. The company recently announced its sustainability strategy for 2020. This includes achieving 100% sustainably sourced aluminium in compliance with the Aluminium Stewardship Initiative and raising the recycling capacity of used capsules to 100% by 2020. Nespresso encourages its Club Members to play an active role in recycling by collecting their used capsules at home and taking advantage of the available recycling system in their country.
"We know that Nespresso customers in Denmark care about the environment, and that they are invested in taking environmental responsibility," added Johan Bäckström. "The Danes are already good at recycling paper and glass, and it is our wish that it becomes a natural part of the Danish everyday life to recycle used Nespresso capsules as well".
Related Stories
Nespresso to invest CHF 500 Million into 2020 Sustainability Strategy