Next milestone in long-term relationship with Colombia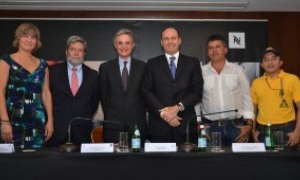 After many years of sourcing the highest quality green coffee from Colombia, Nespresso has announced plans to launch commercial operations in the country. The opening of the first Colombian boutique later this year marks a further milestone in the strong relationship Nespresso nurtures with Colombia and its coffee farmers.
"Colombia has always been a key part of Nespresso's global success. It is a pillar in allowing us to deliver on the highest quality for which our brand is known," said Jean-Marc Duvoisin, CEO of Nestlé Nespresso SA.
Colombia is a strategic supplier for the flavour and aroma profiles Nespresso requires for its Grand Crus. Colombian coffee can be found in 80% of Nespresso Grands Crus and represents the most important source of green coffee for Nespresso. For example, the Pure Origin Rosabaya de Colombia is a Grand Cru composed exclusively of Colombian coffees.
"The long-term relationships we have built with Colombian coffee farmers drive shared value for them and for Nespresso consumers who appreciate high quality coffee," noted Mr. Duvoisin.
Significant market potential
The introduction of Nespresso in Colombia will allow coffee lovers across the country to experience the Nespresso quality and convenience that is already enjoyed in 59 other countries worldwide.
"The launch of Nespresso on the Colombian market symbolises our confidence in the Colombian economy and the potential that we believe exists within the Colombian portioned coffee market," said Mr. Duvoisin.
While 95% of Colombian adults drink coffee and approximately 75% of coffee is consumed at home, the specialty coffee market is also demonstrating strong growth. "Colombia is a country where coffee holds a very special place and we're very excited for Colombian consumers to discover the highest quality Nespresso Grand Cru coffees," added Mr. Duvoisin.
Nespresso coffees, machines and accessories will be available in Colombia in the second half of 2014. A Nespresso boutique will open in Bogotá, offering consumers a unique brand experience designed to meet their individual needs and preferences. Nespresso machines will also be available for sale in the country at exclusive retail partners. In addition, consumers will be able to purchase their favourite Grand Cru coffees and machines 24/7, either online through the Nespresso Club or over the phone through the exclusive Customer Relationship Centre.
Long-standing commitment to Colombia
Ten years ago Colombia was one of the first countries to join the Nespresso AAA Sustainable Quality™ Program. Through this program, created in collaboration with the Rainforest Alliance, Nespresso has forged enduring partnerships with coffee farmers, coffee suppliers, local organisations like the Colombian Coffee Growers Federation (FNC) and international NGOs to help farmers produce the highest quality coffee, while improving their standard of living and protecting the natural environment.
Today, more than 40,000 Colombian farmers participate in the AAA Program, representing around 65% of all AAA farmers in eight countries. The amount of Colombian coffee Nespresso sources from the AAA Program has increased eightfold since 2006.
Through the AAA Program, Nespresso works in Colombia with partners on the ground and its network of over 140 agronomists, to provide farmers with on-going support, training, financing and technical assistance to improve sustainability, farm management and productivity, while maintaining quality.
These efforts are producing real benefits in coffee growing communities. Field research conducted from 2009 until 2012 in Colombia by the independent monitoring organisation CRECE (Centro de Estudios Regionales Cafeteros y Empresariales) shows that AAA farms surveyed had 20% better social conditions, 30% better environmental conditions and 26.1% better economic conditions than non-AAA farms. CRECE estimates that some 150,000 people in Colombian coffee farming communities have benefited from the positive impact of the AAA Program.
Coffee innovation through close collaboration
One important outcome of the collaborative approach and lasting, direct relationships that Nespresso has developed in Colombia is the capacity to innovate in coffee development.
Within the framework of the AAA Program, Nespresso coffee experts have worked with Colombian coffee farmers to identify new approaches to on-farm practices, coffee varieties and harvesting techniques, and ensuring full traceability. This has led to the development of Limited Edition Grands Crus using Colombian coffees, such as Sandona, Naora and Dhjana, as well as the creation of the permanent Grand Cru Rosabaya de Colombia.
Celebrating the rich diversity of Colombian coffees
The latest demonstration of this close collaboration and innovation is the 2014 launch of the Nespresso Colombian Terroirs Limited Edition duo. These two unique and contrasting Grands Crus are sourced from Cauca and Santander, very different regions of Colombia whose particular soil and climate conditions result in green coffee with distinct aroma and taste profiles. The Colombian Terroirs duo Limited Edition Grand Crus exemplify the diversity of sensory experience that can be drawn from the Arabica coffee variety grown in different locations.
Colombian Terroirs are on sale now in Nespresso markets worldwide and will be available for a limited period of time in Colombia once the market has opened later in the year.
Related stories
Nespresso celebrates the rich diversity of the Colombian Terroirs with spring Limited Edition
Colombian Coffee Growers Federation and Nestlé Nespresso SA reaffirm their commitment to sustainable quality coffee
Colombian coffee farmers and agronomists and Nespresso coffee experts shared their common love for perfect coffee
Naora: the fruit of a long-term collaboration in Colombia between coffee farmers and Nespresso
Nespresso develops groundbreaking late harvest technique for Limited Edition Grand Cru Naora
Coffee farmers celebrate the Nespresso AAA Sustainable Quality™ Program in Colombia
Introducing Dhjana: the first 100% AAA Limited Edition Grand Cru