A pioneering technique born from agronomic expertise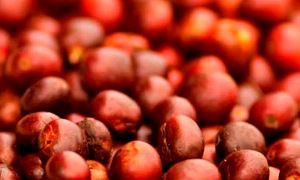 Nespresso once again breaks new ground with its Spring 2012 Limited Edition coffee, Naora. Using a sophisticated and pioneering technique born from its agronomic expertise and inspired by oenology, Nespresso has developed a delightfully distinct and complex "late harvest" Grand Cru coffee.
The unique taste of Naora, characterized by notes reminiscent of wild black currants and blueberry, results from the extended, yet controlled, period of maturation of the coffee cherries.
"Our goal was to expand the boundaries of taste to create a totally new flavour," says Alexis Rodriguez, Green Coffee Expert at Nestlé Nespresso SA. "With Naora, we have succeeded in translating a process used in viniculture for the world of coffee.
Perfect timing to create new sensorial experiences
A refractometer measures sugar content of the
Castillo coffee cherries to ensure their harvesting at
the ideal maturation stage.
As part of the ongoing quest of Nespresso to delight its Club Members with new sensorial experiences, Naora was created with the same precision and passion as a fine wine. Never before has meticulous timing played such a significant role in the creation of a Nespresso Limited Edition coffee.
For over two years, Nespresso green coffee experts worked in close collaboration with agronomists from the National Federation of Colombian Coffee Growers to develop a highly accurate procedure for defining and determining the ideal conditions for late harvesting. An achievement unprecedented in the coffee industry.
For Naora, Nespresso looked to Colombia's northern Andean regions of Santander and Tolima. They are known for mild, sweet coffees that are delicate in the cup due to the particularly high altitudes. Nespresso selected Castillo cherries. It is one of the rare Arabica coffee varieties that can overripe while staying attached to the branch, thus acquiring a maximum of nutrients and allowing aromas to better develop. Rigorous controls were implemented to guarantee that the coffee cherries could mature until the last possible minute before being picked. While avoiding the high risk of fermentation or mould.
Seeing timing as particularly essential during the harvesting, the name of the Naora Limited Edition Grand Cru combines the English word "now" with its Spanish translation, "ahora".
Adopting new harvesting practices
The process also required the dedication and engagement of some 1100 coffee growers who adopted new harvesting practices to achieve the desired outcome. "Initially it was a challenge for them to work so radically differently than they have for generations – picking cherries that are violet instead of red. We transformed this basic principle." comments Rodriguez.
Castillo varierty cherries at different stages of
ripening leading to the proper maturation for
Naora Limited Edition coffee
Nespresso creates a new tradition
As the latest Limited Edition coffee from Nespresso, Naora is a blend that complements the company's collection of 16 permanent Grands Crus for a short time. Nespresso Limited Edition coffees offer Club Members rare extraordinary tastes developed especially by Nespresso coffee experts to delight them with new aromatic experiences.
The unique process Nespresso devised to create Naora lays the groundwork for a new tradition in coffee harvesting. As Rodriquez explains, "By working with nature, we can adjust the flavour of the bean through its ripeness. Stretching the limits of time is one of the greatest challenges we ever faced. Naora is a dream come true."
Naora is a delicately balanced, medium bodied coffee with a light bitterness and juicy acidity and an intensity ranking of 5 on a scale of 1 – 10. Split roasting balances the intense berry notes while maintaining moderate acidity. The 2012 Naora Limited Edition Grand Cru comes sealed in a purple-pink capsule, reflecting its character of wild berries and the purple colour of the late harvest cherry.