You phone can now make a perfect cup of coffee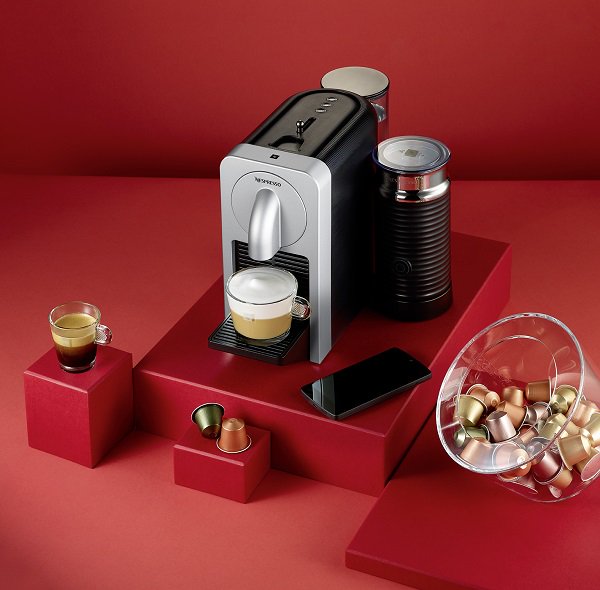 Nespresso, the pioneer in portioned coffee, responds with its newest machine innovation to consumer demand for greater convenience, personalisation and technical integration into their lifestyles. The new Prodigio is the first-ever Bluetooth connected Nespresso machine.
With functions such as remote and scheduled brewing, maintenance alerts, and capsule stock management, Prodigio lets owners enjoy their coffee while their smartphone or tablet takes care of the rest.
Claire Cloatre-Vinzant, Head of Marketing Machines from Nespresso commented: "Innovation and convenience are core elements of the Nespresso business so we're delighted to be able to announce the launch of our first connected machine. We like to continually surprise and delight our Club Members and Prodigio offers them a unique, integrated way for them to access the Nespresso services."
Seamless interconnectivity via Bluetooth Smart® technology
Using Bluetooth Smart® technology, the Nespresso Prodigio machine seamlessly links with the Nespresso smartphone app to enrich the coffee experience.
Users can use the app to remotely brew any of the OriginalLine range of 23 Nespresso Grands Crus. The convenience of scheduled brewing means your favourite Espresso, Ristretto or Lungo is ready to drink at a specified time.
The intelligent machine brings additional benefits by interacting with the app to track capsule stock and enable simple capsule re-order. Users are alerted whenever attention is required, for instance when water is low or de-scaling is needed.
Combining sophisticated style with ease of use
Nespresso is synonymous with smart, compact and attractive design, and the Prodigio machine is no exception, combining an elegant aesthetic with sophisticated technology for ease of use.
In order to meet a variety of coffee preferences and needs there are two models, both available in either sleek Silver or Titan colour. Ideal for lovers of milk recipes, Prodigio&Milk comes integrated with an Aeroccino3 milk frother. The Prodigio is perfect for those who prefer to have coffees without milk. A swivel-base water tank allows it to fit easily into a variety of spaces. The cup support can be lifted to accommodate larger cups and recipe glasses.
The Prodigio can also be used without the app, and includes three individual buttons for Ristretto, Espresso and Lungo coffee sizes. Two maintenance lights indicate when action is needed. State-of-the-art features include a fast heat-up time of 25 seconds and an eco-friendly, automatic power-off mode after 9 minutes of inactivity.
The Nespresso Prodigio and Prodigio&Milk machines are available for purchase from March 2016.
Related stories:
Nespresso expands VertuoLine range to include Evoluo machine and Intenso Grand Cru
Lattissima+: the best espresso with the best milk foam for milk-based coffee lovers
Nespresso launches new boutiques with re-designed shopping experience
Nespresso launches the Nespresso Cube, an innovative automated retail concept