New large-cup system goes on tour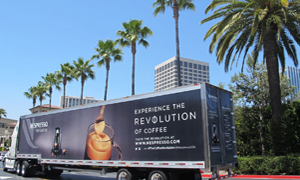 Thousands of coffee lovers around the United States got a taste of the new Nespresso VertuoLine system during a roadshow that has crossed the country since the launch of the machine this February. Under the motto "Tasting is Believing" the tour held an estimated 600,000 tasting sessions to introduce the combined large-cup and espresso coffee system that Nespresso developed specifically for North American taste preferences.
112 days, 21 locations, 17 cities
Over the course of 112 days, five Nespresso teams covered some 50,000 miles to host pop-up venues at 21 locations in 17 cities across the US. The VertuoLine roadshow hosted public tastings and demonstrations as well as VIP events where VertuoLine coffees were paired with food and wine.
At five popular locations in Los Angeles, San Francisco, Seattle, Austin and Boston, curious coffee lovers lined up to explore the VertuoLine world in a spacious capsule-shaped outdoor dome. Even larger, mega pop-ups were staged at the east coast landmarks, New York City's Grand Central Terminal and Union Station in Washington, DC, two of the nation's busiest transportation hubs and leisure destinations.
Consumers were also able to test the VertuoLine system at pop-up boutiques in premiere shopping malls around the country, in Atlanta, Boston, Denver, Philadelphia, Houston, Miami, Minneapolis, Newport Beach, Scottsdale and Washington, DC.
Positive response drives consumer sales
Continuing the momentum were additional VertuoLine promotional events at the IHA trade fair in Chicago and the Sony Open Tennis in Miami. Meanwhile, renowned chefs Marc Forgione and Michelle Bernstein shared delectable recipes incorporating VertuoLine coffees at exclusive tasting events held in cooperation with the Macy's Culinary Council in San Francisco, Chicago and Minneapolis.
"The widespread enthusiasm that we encountered during our nationwide VertuoLine roadshow is reflected by the increase in traffic to our boutiques and key accounts. This overwhelmingly positive response shows us that Nespresso is on target with its newest innovation for the American market," said Frederic Levy, Market Director for Nespresso USA.
Related stories
Nespresso sets to revolutionise North American coffee market
Our goal is to create a new premium coffee segment in North America