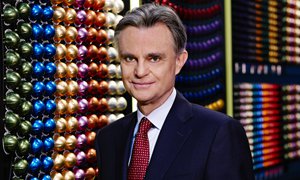 Having pioneered the portioned coffee market in Europe over 25 years ago, Nespresso is once again building on its innovation legacy to transform coffee drinking habits, creating a premium large-cup coffee market in North America. Jean-Marc Duvoisin, CEO of Nestlé Nespresso SA, explains how the new VertuoLine system is set to be a game changer for the coffee industry.
First of all, what is VertuoLine?
VertuoLine is a coffee revolution for North American consumers! We are the first ones to introduce a premium large-cup portioned coffee offering. It is a game changer that will revolutionize the most rapidly growing segment of the coffee market in North America. This new system was designed to meet the tastes of the North American consumers, brewing the highest-quality American-style large-cup coffee and authentic espresso. For the first time ever, coffee lovers can experience large-cup coffee with crema. Silky, generous crema is a naturally formed foam of coffee and air. Representing unprecedented quality, it seals aromas in coffee and enhances the tasting pleasure.
Why did you choose to launch VertuoLine in North America only?
North America has traditionally been a large-cup coffee market and it is currently experiencing a massive growth in the portioned coffee segment. As the first Nespresso system that can brew both high-quality, large-cup coffee and authentic espresso, this new line taps into consumer preferences in the region, and it is perfectly positioned to fill an unmet need for exceptional coffee that can be brewed at home. With its convenience, technology and uncompromising quality, we believe that VertuoLine will boost our decade-long presence in the market.
What are your expectations for this new revolutionary system?
Nespresso pioneered the portioned coffee industry more than 25 years ago in Europe and has been committed to bringing the same coffee experience to North Americans for more than 10 years. With VertuoLine, we want to accelerate our growth and become a leading player in North America's fast-growing portioned coffee market. The business potential is strong. The US portioned coffee market is estimated to be worth USD 4.9 billion with around 40% growth last year. It is also estimated to contribute to half of the portioned coffee segment's growth worldwide. Coffee is also the fastest growing category in Canada's hot drinks market.
How is Nespresso doing in the North American market currently?
Our business is experiencing double-digit growth and we're only getting stronger. We've established our presence in North America with boutiques across the United States and Canada, through our retail partners that sell our products in every major city, and we have an incredibly popular and successful business-to-business offering. We now have six boutiques in the U.S. and 22 boutiques-in-shop. In the last year and a half, we opened two flagships on the US West Coast in Los Angeles and San Francisco. Nespresso is also available at over 250 specialty housewares stores like Bloomingdales, Sur la Table, Macy's and Williams-Sonoma. In Canada, we currently have 7 boutiques and 1 boutique-in-mall. We also opened the largest Nespresso boutique in North America last year in Toronto.
How does VertuoLine differ from other portioned coffee systems already on the market in the US and Canada?
VertuoLine is the latest extension of our commitment to quality and convenience, giving consumers who enjoy large-cup coffee a high quality option. Compared to other portioned coffee systems currently available to consumers in North America, VertuoLine is incredibly advanced. Its intelligent extraction system provides an extremely high level of precision as the system recognizes, through barcode technology, each Grand Cru and adjusts the extraction parameters such as temperature, flow rate, rotational speed and the time that the water is in contact with the coffee to brew each blend in the most optimal way.
Is the VertuoLine technology different from the pressure-based system that Nespresso is known for?
Yes. Pressure is not the key parameter for VertuoLine. Nespresso pioneered portioned coffee, transforming the way millions of people drink coffee, by introducing the first portioned coffee system based on high pressure extraction. Since then, we have had a strong track record of continuous innovation. We have been constantly enhancing and reinventing how consumers experience their coffee. Once again, we aim to revolutionise coffee drinking habits. This time specifically in North America, by bringing a high quality coffee experience to consumers who enjoy large-cup coffees.
Our new CentrifusionTM technology produces large-cup coffee and espresso with the same, high-quality in-cup result. CentrifusionTM is a word combining centrifugal and infusion, indicating that the capsule spins inside the machine, and water is injected into the capsule and "infused" with the ground coffee inside the capsule. This technology provides an extremely high level of precision with each extraction parameter individually controlled. We are very proud that this revolutionary technology allows us to bring crema, a sign of high-quality coffee, to large-cup coffees.
Why did you introduce a new system?
We spent several years perfecting a system that was crafted specifically with the North American consumer in mind, developing a portioned coffee system that offers large-cup coffee, a preference in this market. While also offering the option for authentic espresso that Nespresso is known for. We needed to develop a whole new system. Different parameters are indeed necessary to master the distinct characteristics of both espressos and large-cup coffees.
What does it mean for the existing Nespresso system?
The Nespresso system has been an essential element of our success since the creation of our company and brand. And it still is. It will continue to be available to our Club Members and consumers worldwide. Introducing the new VertuoLine system doesn't imply that we will change our strategy with the existing Nespresso system. On the contrary. We will keep innovating, as we have always done, introducing new machines and offering new Grands Crus to bring unique and rare coffee tasting moments to our consumers worldwide. We will continue offering new exclusive services, always looking to increase availability and adapting to consumers' local shopping and living preferences. We will continue expanding into new geographic markets. We are currently present in 60 countries and we have over 320 boutiques worldwide. Nespresso grew strongly globally in 2013. Our non-European business represents a quarter of our sales. So we have strong growth potential across the world. Our existing Nespresso system has great days ahead!
The existing Nespresso system will be branded OriginalLine in North America. It will target espresso lovers, while VertuoLine will target large-cup coffee drinkers. The two systems are different and will appeal to different types of consumers.
What do you see as Nespresso key growth drivers moving forward?
Our success is driven by our ability to deliver the highest quality coffees, continuous innovation, exclusive personalized services and a unique brand experience. The privileged relationships and dialogue that we nurture with our Club Members and consumers allow us to anticipate their needs and exceed their expectations. Our unique direct-to-consumer business model, with our extensive retail network, 24/7 phone line and e-commerce platform, and our rigorous quality management from farmer to consumer are key factors in our continuous success.
Finally, where does the name Vertuo come from? Is there a meaning?
The name Vertuo derives from the word "Virtuoso", which means mastering an expertise. In this case, this name aims to underpin Nespresso's mastering of highest quality coffee for consumers' pleasure.
Related story
Nespresso sets to revolutionise North American coffee market