Contribution to quality of life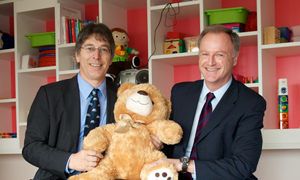 Nestlé Nespresso SA and the City of Lausanne opened a new nursery on the Nespresso headquarters campus. In a region where parents have to often wait for months or longer before finding a place in daycare for their children, this new infrastructure brings some relief.
A joint agreement between Nespresso and the city enables Nespresso employees to share this facility with other families from the neighbourhood. Nespresso employees will have access to about 20 of the 56 newly created places.
"It is tough for young parents – including our own employees – to find a place at local daycare centres in Lausanne. By helping create this nursery, we want to make a meaningful and lasting contribution to the quality of life for our employees and neighbours," said Eric Lescaillet, HR Director of Nestlé Nespresso SA.
Long-term concrete engagement for the community
Nespresso has anchored quality and sustainability as our way of doing business. In this context, helping set up this nursery is about long-term and concrete engagement for the local communities and economy at large.
Nespresso is committed to creating sustainable business success. Building long-term relationships with our consumers, business partners and with the local community through meaningful actions is part of this approach.
"Playing our part in setting up this nursery reflects our long-term commitment to our own employees – but also to the local community, the city and the region," said Mr Lescaillet, who had been personally driving this project for four years to bring it to completion.