Coffee as UK's "hottest" drink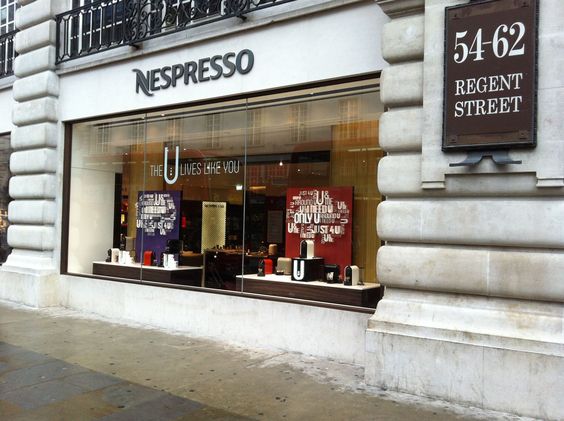 As the UK's love affair with coffee breaks new ground, Nespresso opens a brand new flagship boutique in the heart of London's West End. The London flagship boutique offers customers a multi-sensorial space where they can discover the entire Nespresso product range whilst enhancing their own coffee expertise.
To mark the opening this July, Nespresso commissioned independent research into coffee trends in the UK. It revealed a marked evolution in the way coffee fits into Brits' lives. It also pointed out an ever growing desire for quality coffee in the UK.
Creating a quality coffee experience at home
The findings revealed that nearly half of adults in the UK believe that coffee represents a higher social standing. It is fast becoming an indication of sophistication and the beverage that we like to savour when socialising. Two thirds of British people also state they would order a cup of coffee over any other popular hot drinks when meeting with friends.
With coffee now a much more important part of the daily ritual, coffee lovers are trying to create a quality coffee experience at home. The in-home coffee moment is therefore growing in significance, with over half of respondents revealing that they put a lot more effort into creating coffee compared to tea making as they try to ensure they deliver a consistently high quality coffee experience for friends, family and themselves. This is complemented by the fact that Brits acknowledge that when purchasing, the right choice of coffee is a more important choice than tea. As the UK's thirst for coffee knowledge grows, nearly two thirds of the UK agree that they would welcome a better understanding of coffee with regards to taste, preparation and serving.
"The explosion of coffee culture, both at home and on the high-street, mirrors the change in our wine drinking habits from Lambrusco and Chablis through to today's very sophisticated wine market. As a result, shown through the research, the coffee drinker now expects more from their cup of coffee. Like with wine, consumers are starting to use their choice and knowledge of coffee to send a signal of their sophistication. With good coffees having around twice as many volatile compounds and aromas as even the finest of wines, there is lots for the coffee drinker to seek out and appreciate in order to utilise this information to elevate themselves amongst their peers," comments Professor Charles Spence, lecturer and professor of Experimental Psychology at the University of Oxford.
London's first Nespresso flagship boutique
Undoubtedly, the latest boutique will be welcomed by the UK's increasingly discerning coffee drinkers. Following glamorous openings in New York, Munich and Vienna, Nespresso opens its latest boutique on one of London's most popular and exclusive shopping streets situated in the heart of London's West End, with entrances on both Regent Street and Glasshouse Street.
The opening comes at an exciting moment in the history of Regent Street, particularly as the south end of this globally recognised London shopping strip is undergoing significant regeneration. The combination of a number of high-profile dynamic brand names popping up and vibrancy of the neighbourhood, make this the perfect location for London's first Nespresso flagship boutique.
As with all Nespresso boutiques, great attention has been paid to the aesthetics, from stylish rosewood paneling to custom-made porcelain floor tiles, all of which are synonymous with both the brand and its premium surroundings.
A unique personalised brand experience
The boutique provides consumers with a uniquely personalised experience, featuring a number of zones that cater to the specific needs of the customer. The Club is a niche room within the boutique dedicated to Nespresso Club Members. The Tasting Area provides visitors with the chance to experience the quality of Nespresso portioned coffee, with coffee specialists on hand to guide tastings. The Recycling Zone features a Nespresso capsule recycling station and provides information for customers about the company's recycling programme. There is also a Pick-Up Zone that allows Club Members to collect their orders that they have previously placed over the telephone, at a time that is convenient to them.
Interactivity for deeper brand engagement
The London flagship is also bringing a number of market firsts for Nespresso - from the 10 square foot Video Wall to an interactive touch tablet that enables you to discover all the intricacies of the machines and their accessories. The Tasting Area also offers a unique and innovative touch screen facility for visitors to learn more about the taste and aromatic profiles for each Grand Cru in a fun and engaging way. All of these elements provide a huge visual impact to the store and allow for deeper customer engagement with the brand and its essence.
"There are now more than 270 Nespresso boutiques around the world and we're thrilled to be introducing a flagship store to the heart of London's West End. We have designed and created the boutique specifically to enhance the customer experience and the UK's increasing desire for quality coffee. We believe we have found the perfect location where we can offer customers a unique environment in which to enjoy the Nespresso experience," Says Brema Drohan, UK Market Director for Nespresso.
To read a full interview with Brema Drohan, please click here.
Related story:
Nespresso UK meets coffee lovers' demand by opening a new flagship boutique in London