A unique approach in the coffee sector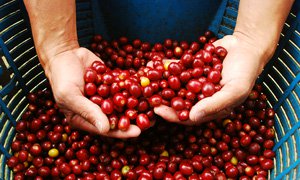 Having launched the groundbreaking Nespresso AAA Sustainable Quality™ Program together in 2003, the long-standing collaboration between Nespresso and the NGO, the Rainforest Alliance is approaching its ten-year anniversary. Today, the AAA Program supports 45,000 farmers to grow the highest quality coffee more sustainably, enabling Nespresso Club Members around the world to enjoy Sustainable Quality™ coffee. With its triple focus on quality, sustainability and productivity, the AAA Program is unique within the coffee industry.
A unique combination of expertise to create AAA Sustainable Quality™
The Nespresso AAA Sustainable Quality™ Program was developed to meet a goal shared by Nespresso and the Rainforest Alliance: to create a sustainable supply of the highest quality coffee, while improving the situation for coffee farmers and their communities. Sustainable quality is the resulting central element to this collaboration.
The Rainforest Alliance brought experience and knowledge in developing sustainable farming practices to the unique collaboration. Nespresso provided expertise in selecting and growing the highest quality coffee. Only 1-2% of all the coffee in the world meets the quality, taste and aroma profile required for Nespresso Grand Cru coffees.
Benefits for farmers, for Nespresso and for Nespresso consumers
Chris Wille, the chief of the Sustainable Agriculture Program at the Rainforest Alliance, has over 20 years experience working with coffee farmers in Central and South America. Speaking of the collaboration of Nespresso and his organisation for the AAA Program, he says, "It's unique. There's nothing else like it in the industry. We're working together to help farmers not only meet sustainability requirements, but also improve their coffee quality and productivity. The benefits of the Nespresso AAA Sustainable Quality™ Program extend beyond farmers. It's a triple win situation. Not only is the AAA Program a win for farmers and their families, but for Nespresso and Nespresso consumers too."