A sustainable life transformation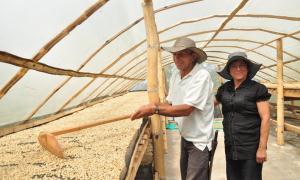 Jaime Elias Eraso bought his farm with his wife Blanca 25 years ago, in the highlands of Nariño, Colombia. At the time it was covered only with grazing fields. Slowly they built it up, sowing maize, sweet potato and yucca. Then they added coffee. While it only occupies a fraction of the farm – only 2 of the 10 hectares total – the coffee that they have sold through the Nespresso AAA Sustainable Quality™ Program since 2007 has transformed their lives.
A unique terroir
Nariño is in southwestern Colombia, with the Pacific Ocean to the west and Ecuador to the south. Nariño was the first region in Colombia to earn a Denomination of Origin appellation for its coffee, and together with the departments of Cauca and Huilo, is referred to as the "zone of quality". The region benefits from particular conditions such as abundant sunlight at high altitudes, ideal rainfall patterns and rich volcanic soil. Warm humid winds rise up from the valley to warm the mountains, allowing the cultivation of coffee at higher altitudes than elsewhere in the country. The special terroir gives the coffee grown in Nariño a unique taste and aroma that is prized worldwide for unusually high acidity, sweetness and mildness. With the Rosabaya Grand Cru and the Limited Edition Sandona before it, Nespresso shares the taste of this magnificent origin with its consumers.