The land of lakes, volcanoes and coffee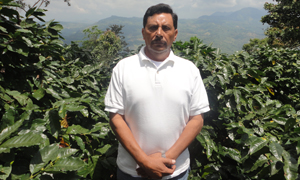 Nicaragua, the largest and least populated country of Central America, is known for its bountiful volcanoes, stunning lakes, and unique ecosystems. After nearly two decades of peace, the country ranks among the safest in Latin America and is increasingly attracting tourists eager to explore its stunning landscape and rich culture. Nicaragua is also once again receiving recognition for its coffee, which has been central to the country's economy since it was introduced in the 1800s.
A MID-SIZED FARM IN THE COFFEE CAPITAL OF NICARAGUA
In the department of Jinotega, Nicaragua's "coffee capital", Félix Pedro López Blandón runs Agricola El Comienzo, a medium-sized coffee farm with 10 permanent employees and 60 additional workers during the harvest. Along steep, fertile slopes that reach up to some 1,200 meters above sea level he grows the Arabica variety Caturra. Orange, mango, guava and avocado trees provide additional income. Since he acquired the farm 18 years ago, Blandón has worked to improve his farm and the livelihood of his family, overcoming natural disasters, economic crisis and political instability.