Entering the Nespresso AAA Sustainable Quality Program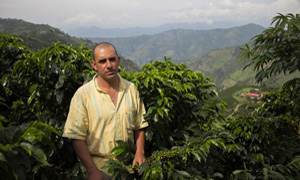 Duberney Arias Agudelo's Corea farm is nestled along the slopes of the Andes in Caldas, one of the three departments in the famous Colombian coffee belt, which produces some of the finest coffee in the world.
When Duberney heard about the Nespresso AAA Sustainable Quality™ Program from his local coffee cooperative in Pacora in the Colombian Department of Caldas, his interest was immediately awakened. His family had acquired the 15-hectare farm at the end of the 1990s, and Duberney was in charge of the farm's day-to-day management and upkeep.
"It was quite simple: we were interested in it and Nespresso came to visit us and we started to work with the AAA Program right away," said Duberney.
A new approach to coffee production
"The first recommendations made by the Nespresso agronomist helped us with the management of our farm. We had been very disorganised. We didn't keep accounts and rarely planned anything. Now we have a plan for what we will do throughout the entire year, and we are more conscious of the finances: we know how much it costs to produce a load of coffee."