Applying cooking techniques to coffee roasting
With its latest Limited Edition Grand Cru Crealto, Nespresso continues to set precedents in coffee culture, bringing together the worlds of premium coffee and high gastronomy like never before.
Michelin-starred chef Mauro Colagreco (restaurant Le Mirazur, Côte d'Azur, France) is the first chef to be actively involved in the development of a Nespresso Limited Edition coffee. His long-roasting techniques at low temperatures were applied to the coffee roasting of Crealto.
Inventive long-roast Grand Cru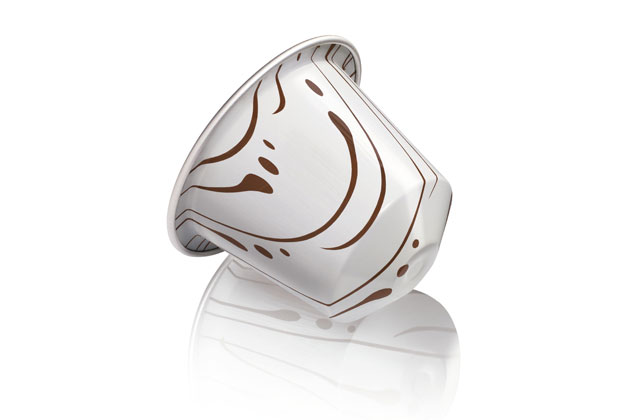 The Crealto capsule, reminiscent of the chefs' creations decorations
"At Nespresso, we are always looking for innovative ways to surprise our Club Members with unique coffee discoveries that unveil new sensorial experiences," comments Alexis Rodriguez, Green Coffee Expert at Nespresso. "We have worked with world class chefs for a long time, as there are many synergies between Nespresso and the world of high gastronomy, but had yet to collaborate on the development of a Limited Edition coffee. We were inspired by Mauro's creative spirit and inventive gastronomic techniques, resulting in the unique taste profile of Crealto."
The Crealto blend was developed using 100% washed Arabica coffees from South and Central America and Indonesia that can withstand long roasting without becoming over-roasted. The beans were simmered three times longer than the average Nespresso roasting times to extract aromas and flavours harmoniously and to the fullest.
Crealto comes sealed in a white capsule with brown streaks reminiscent of the way chefs decorate their creations. With an intensity of 8 on a scale from 1 to 10, Crealto has round, roasted notes that linger on the palate, revealing nutty aromas when enjoyed with milk.
Nespresso Haute Cuisine
Chef Mauro Colagreco and Nespresso Coffee Expert Alexis Rodriguez in a Crealto tasting session.
Crealto unites the creative strengths of both areas of expertise in more ways than one. Visiting Nespresso farmers in Costa Rica and working with Nespresso Coffee Experts in Switzerland, Chef Mauro Colagreco learned first-hand about the complex creation of a Nespresso Grand Cru from bean to cup.
"My encounter with Nespresso allowed me to experience the various parallels between the world of gastronomy and coffee, such as the importance of the quality of ingredients, the techniques, the passion and precision you apply and the creative routes you explore in the search of new tasting experiences," said the Italian-Argentinean Colagreco, who is also the first non-French chef to be Chef of the Year by Gault-Millau.
"It was fascinating to discover how the long and slow roasting techniques that I use in my cooking could be applied to the creation of Crealto," he added.
The talented young chef was inspired by these insights to create delightful recipes fusing Crealto Grand Cru coffee with sweet and savoury ingredients for coffee lovers alike to prepare and enjoy at home. He also developed a unique five-course menu integrating Crealto as an ingredient in each dish.
The name Crealto stems from the combination of "createur" and "alto", referring to the influence of high gastronomy in its making. Alta cucina means high gastronomy.
Innovation in Limited Edition Coffees
The Limited Edition Grands Crus that Nespresso introduces a few times a year open up a world of different coffee experiences to its Club Members. Building on the long-term partnerships Nespresso has cultivated with farm communities around the world and the passionate knowledge of its in-house coffee experts, these rare and exceptional coffees push coffee innovation further.
The Limited Edition Naora, for example, used groundbreaking late-harvesting techniques derived from wine cultivation. Dhjana was the first Grand Cru to be sourced 100% from the Nespresso AAA Sustainable Quality™ Program. And Kazaar – the first Limited Edition to be re-launched due to popular demand – achieved its unsurpassed intensity through unique approaches to blending, drying, roasting and grinding of the beans.