Today, as we celebrate World Earth Day, it's important for us to take a moment and reflect on what we need to continue doing to preserve our planet.
Celebrating World Earth Day with Founder & CEO of Fair Trade USA, Paul Rice
22.04.2021

By Guillaume Le Cunff, CEO of Nestlé Nespresso,
and Paul Rice, founder & CEO of Fair Trade USA
Today, as we celebrate World Earth Day, it's important for us to take a moment and reflect on what we need to continue doing to preserve our planet. No organization can do it alone, and it is through partnerships that we are able to tackle the evermore urgent climate change, whilst continuing to serve the communities we work with and help them tackle some of the societal and environmental challenges they face.
One longstanding partnership that has been integral to Nespresso's progress in sustainability is that with Fair Trade USA. Over the past 7 years working together, we have created initiatives with the purpose of promoting coffee farmers' well-being. In the spirit of World Earth Day, I wanted to share a recent conversation I had with Paul Rice, founder & CEO of Fair Trade USA where we discussed a clean water project that we established in Colombia, which is close to both our hearts. We want to give attention to this project today, highlighting some of the challenges we face in different parts of the world that have been exacerbated by the urgent climate crisis.
I look forward to hearing what Earth Day means to you in the comments.
We are here today to discuss a project I know we're both incredibly proud of – for our readers, what is the clean water project and what makes it so special?
Paul:
The clean water project has been a prime example of what we see when people have the ability to improve their lives and the lives of their families. The project, in which farmers brought clean water to rural areas in Colombia, wasn't just about benefitting the farmers themselves. It was about benefitting their community as a whole. A key component of our model is the Fair Trade Committee, which develops and implements projects that are decided on by a democratically-elected general assembly of farmers. The projects are funded with the additional Fair Trade premiums, or what we call "Community Development Funds," - paid by Nespresso, that farmers earn on top of the legal wages required by our standard.
Guillaume:
I completely agree Paul, and what continues to stand out to me when working on this project is the broader impact, delivering funds to build water treatment plants that benefit the entire community. The need for the program sheds a harsh light on the health challenges faced by farming communities around the world that originate from the absence of clean water. What makes me so passionate about this project is that it goes so far beyond delivering good quality coffee and illustrates the positive impact we can create across the entire value chain. We went from the project starting, to communities drinking clean water in a matter of months – how amazing is that!
Taking a step back, I know the farmers had a key role to play in developing and executing the clean water project. Can you talk about why the farmers chose to proceed with this project and its significance for these communities?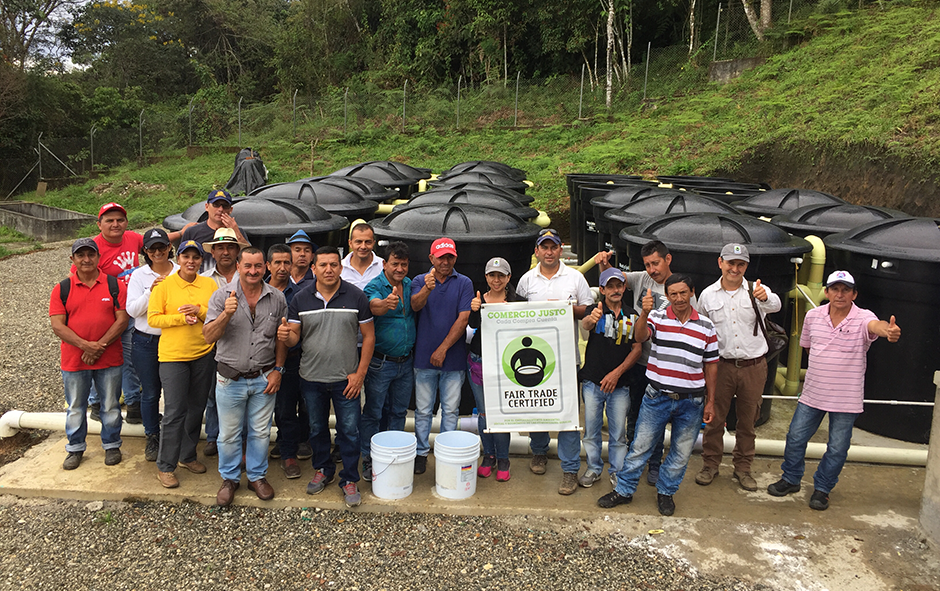 Paul:
All fair trade farmers receive training on how to utilize tools like a formal needs assessment to inform their usage of the "Community Development Funds". This helps them democratically determine how they can meet their most pressing needs. In this case, the farming communities in Cauca were suffering from various illnesses caused by poor water quality like gastroenteritis, cholera, diarrhea, hepatitis, and more. This made a clean water project a clear priority among many possible options.
Guillaume:
The needs-based assessment was really critical in identifying how big of an issue clean water was. You'll recall that over half of Cauca-based coffee farmers told us that their water was either somewhat or very polluted, with a quarter stating that someone in their household had suffered from a water-borne illness. Hearing about the illnesses experienced by entire communities due to poor quality water, you can understand their appetite to invest in potable water for both their future and wellbeing. Next door, Nariño – as a drought-prone region – also faced its own water crisis which was unearthed during the assessment.
It's obviously incredibly important to really put the farmers in the driver's seat; why do you think that is and how did you go about creating a meaningful consultation process in Cauca?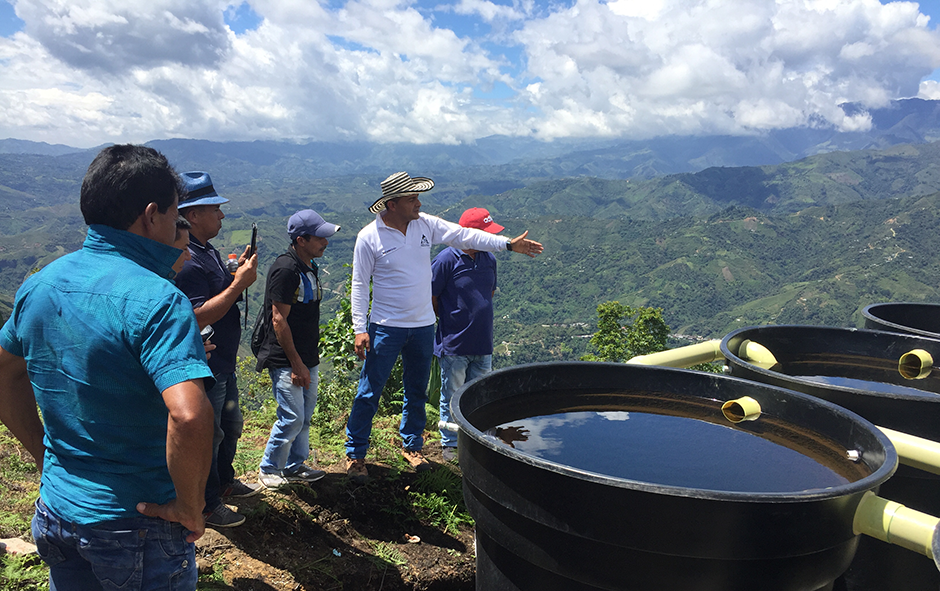 Paul:
For many, many years, we have seen well-intentioned philanthropic dollars spent on short-term efforts that yield impressive initial results, but ultimately fade over time. When farmers are "put in the driver's seat" as you so appropriately put it, they are almost always looking at the short-, medium-, and long term as they are the community, and the community's future is theirs as well. No one understands more the need for comprehensive solutions. Fair Trade plays a role in connecting the dots from identifying what the pressing issues are, to unlocking lasting solutions. By giving farmers the tools, resources, and market access that they need and deserve, they are able to set their projects up for success well into the future. It's also important to note that they committed to using local experts and engineers in helping to support the farmers in implementing these projects successfully, thus also keeping their money local and supporting other community members.
Guillaume:
And what strikes me about really "putting farmers in the driver's seat" is the broader impact it creates in generating more robust community engagement. Whether it be through AAA Sustainable Quality™ Program or Fair Trade Certification – or, in fact, both - empowering farmers and coffee growing communities inspires action that results in change and improvements that go far beyond a project's initial scope. Obviously, all these efforts would not work without our strong and long-term collaboration with the Colombian Coffee Growers Federation (FNC), the local authorities, the community and the farmers. This long-term relationship, based on trust and a shared vision around coffee, has been key for success. Together we were able to achieve greater impact. This is the power of partnerships.
When visiting the project on site and speaking with the farmers about their personal experiences, what was most striking to you in how this project was improving their lives and changing these communities for the long term?
Paul:
The level of leadership and ownership of the water project, its resources and equipment demonstrate how cemented this project has become in the DNA of the communities who have implemented it. They know that they are pioneers in improving the quality of life for their families and are proud of how their story is inspiring others. They are solving basic needs that would not otherwise have been solved and are leading other rural Columbian towns in boosting their water sanitation and resiliency. In turn, this has increased the value proposition of Fair Trade for farmers and is increasing interest in Fair Trade as a framework for how to drive meaningful change. Through this alliance between Nespresso and Fair Trade USA, small coffee producers have a voice and real potential as the protagonists in their own change initiatives.
Guillaume:
So many of us take clean water for granted. The same luxury isn't afforded to many in rural Colombia, and the assurance provided by this program is hands down what's been most impactful to hear about. By 2022, clean water will have reached over 11,600 households in Cauca and 15,000 in Nariño, plus all schools, community centers and health centers in the area. This will directly impact over 130,000 people in these two regions with the health benefits of clean, safe drinking water.
The partnership between Nespresso and Fair Trade USA has played a crucial role in the sourcing of high quality and sustainable coffee, strengthening coffee-farming communities and continuing to drive positive impact around the world. What do you think the future holds for our partnership and what do you think we need to do better to serve communities in the future?
Paul:
Many suppliers and farmers have had a relationship with Nespresso for a remarkably long time. Nespresso's commitment to thousands of farmers through the AAA Sustainable Quality™ Program has secured consistency in an otherwise extremely volatile supply chain. The trust they have developed over the years is crucial in a successful partnership. Over the years, premium projects, like this clean water project, act as a beacon of light to surrounding communities and farms. The partnership between Fair Trade USA and Nespresso will continue to generate buy-in leading to natural expansion. We are thrilled to use our shared learnings with Nespresso to accelerate impact and bring benefits and market access to even more coffee farmers together.
Guillaume:
Our AAA Sustainable Quality™ Program has been a great starting point – helping us build long-term direct relationships with over 110'000 farmers spread across 15 countries of origin. Going forward, we need to take this even further using partnerships like ours to develop more holistic approaches to improving the livelihoods of coffee farmers. For me, this will entail everything from income diversification to innovative environmental and social interventions. I wholeheartedly look forward to continuing our partnership with each other and with farming communities to tackle the most pressing challenges they currently face.