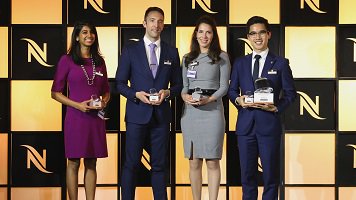 On Monday June 13th, 2016, four students from Saïd Business School, University of Oxford were announced as the winners of the 2016 Nespresso Sustainability MBA Challenge.
The theme of this 4th edition was framed around the expression of sustainability in the luxury positioning of the brand. Students were asked to contribute ideas on how Nespresso can build sustainability into its luxury positioning to express brand meaningfulness.
86 universities from 28 countries submitted proposals to the Challenge this year. The 3 finalist teams were invited to the final that took place at Nespresso HQ in Lausanne, Switzerland, where they presented their proposals to a panel of judges including external sustainability experts, business strategists, academics as well as executive members of Nestlé Nespresso S.A.
The winning project: Perfecting the Positive Cup
Team of Saïd Business School, University of Oxford, convinced the jury the most with their creative and comprehensive 'Perfecting the Positive Cup' proposal. The team suggests an extension of the product experience through a digital ecosystem which places the customer front and foremost in a sensory immersion of Nespresso's sustainability efforts (e.g. from exploring the impact customers are having through their purchases and use of their Nespresso machines to connections with other like-minded Nespresso users).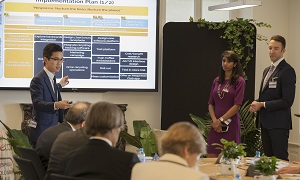 The two other finalists included teams from INSEAD, France / Singapore and Nottingham University Business School, United Kingdom.
Students from the winning team will get the opportunity to travel to Costa Rica to meet farmers taking part in Nespresso AAA Sustainable Quality™ Program, further learn about Nespresso's approach on the ground and discuss broader sustainability challenges and issues in coffee producing countries.
About the Nespresso Sustainability MBA Challenge
Nespresso started the Sustainability MBA Challenge in 2013, jointly with its academic research partners the Intelligence Centre for Sustainable Markets (CIMS) and leading Latin American Business School INCAE, as a way to further expand its sustainability engagement, deepen the dialogue with sustainability leaders in the academic community and solicit innovative solutions for real world issues faced by coffee farmers. Each year the challenge revolves around a different sustainability topic and seeks to engage with future generations of sustainable business leaders. It aims to give the company fresh insight and perspective on how future leaders approach sustainability, but to also give students experience of the sustainability challenges the company faces.
Nespresso has a long tradition of collaborating with academics for projects, joint research and strategic consultations in regards to its sustainability initiatives.