First coffee from Cuba sold in U.S. in more than fifty years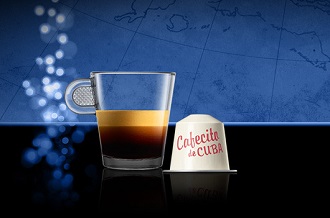 For more than two centuries, Cuba has produced some of the greatest Arabica coffee in the world. With fertile soil and ideal climate conditions, the country offers an excellent coffee growing environment.
Having purchased high quality Arabica green coffee produced by Cuban farmers earlier this year, Nespresso is now premiering the Limited Edition Pure Origin Grand Cru, Cafecito de Cuba.
Available exclusively in the United States for a limited period in the fall of 2016, Cafecito de Cuba is the first coffee from Cuba to be sold in the country in more than 50 years. Recent regulatory changes in the United States have paved the way for Nespresso to offer Cuban coffee to the U.S. market.
Guillaume Le Cunff, President of Nestlé Nespresso USA, commented: "Nespresso is thrilled to be the first to bring this rare coffee to the U.S., allowing consumers to rediscover this distinct coffee profile. Ultimately, we want consumers in the U.S. to experience this incredible coffee and to enjoy it now and for years to come."
100% pure Arabica sourced from eastern Cuba
The green coffee sourced for Cafecito de Cuba is 100% pure Arabica, grown by smallholder farmers in the provinces of Granma and Santiago de Cuba in the eastern part of Cuba.
Nespresso coffee experts in Switzerland then used a split roasting technique to enhance the potential of the beans and highlight their authenticity. One part of the beans was roasted for a shorter time to a lighter colour to bring out the coffee's unique flavours and aromas. The second part was roasted longer to a much darker colour to create a strong body with a dense, velvety texture and intense rich flavours.
The word "cafecito" refers to the short cup of intense coffee that Cubans traditionally enjoy with cane sugar. Inspired by its namesake, Cafecito de Cuba has an intensity of 10 on the Nespresso intensity scale of 1 to 12, and is best enjoyed as a Ristretto (25ml). In the cup, its intense roasted character boasts powerful and delightful smoky notes of wood and tobacco leaves.
Aim of long-term support for Cuban coffee farmers
While only a limited amount of Cafecito de Cuba is currently available, Nespresso aims to continue purchasing Cuban coffee in the coming years.
Together with its partner TechnoServe, a non-profit development organization, Nespresso is exploring ways in which it can support smallholder coffee farmers in Cuba to improve their sustainable coffee practices, increase their productivity and expand their economic opportunities.
Nespresso has already partnered with TechnoServe to assist coffee farmers in Colombia, Ethiopia, Kenya and South Sudan as part of its Nespresso AAA Sustainable Quality™ Program. Through this program, which the company launched in 2003 in collaboration with the Rainforest Alliance, Nespresso works with coffee farmers around the world, providing support, training, financing and technical assistance to preserve the environment for future generations and create shared value for all stakeholders and society. As part of its 2020 sustainability strategy, called The Positive Cup, Nespresso aims to source 100 percent of its coffee through its AAA Program by 2020.
Related stories
Nespresso CEO explains how the company's approach to creating shared value drive positive impact for coffee farmers
Nespresso launches Suluja ti South Sudan, the first coffee exported from the country
Nespresso pays tribute to Cuban coffee tradition with Limited Edition Cubanía