A new era of premium large-cup coffee in France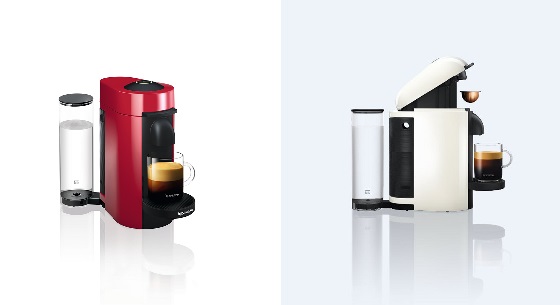 30 years ago, Nespresso revolutionised the coffee market with the introduction of its iconic Grand Cru coffee capsules. Today, the brand is again transforming the way people enjoy their coffee, with the introduction of Vertuo – the first Nespresso system to offer both large-cup coffee options and authentic espresso at the touch of a button. After ten years in development, and two years on the North American market, Vertuo is now being premiered in Europe, with a launch this October in France.
Arnaud Deschamps, CEO of Nespresso France commented: "In France, around 60% of the coffee consumed is not espresso, but a larger cup, especially during breakfast. With Vertuo, we can now bring the Nespresso experience to new consumers and coffee lovers who enjoy large-cup coffee sizes, while continuing to draw on the strengths that underpin our reputation: our deep coffee expertise and commitment to sustainable quality from cherry to cup, our passion for constant innovation, and our focus on personalised service to meet and exceed the expectations of our Club Members."
Revolutionary technology for precision brewing and unparalleled crema
Centrifusion™, the proprietary technology behind the Nespresso Vertuo system, takes a revolutionary approach to coffee preparation. Its unique combination of centrifugal force and infusion creates a perfect balance between intensity, aroma and crema, even in a large cup.
The intelligent extraction system uses barcode technology to recognise the different brewing parameters for each Vertuo Grand Cru. Based on the data printed on the capsule, the machine precisely calibrates settings such as infusion time, water temperature and flow rate, rotational speed and cup length.
The infusion phase allows the water to thoroughly saturate the roasted and ground coffee. The capsule then spins up to 7,000 rotations per minute, optimising the flow of water through the coffee to extract the best flavours and create an incomparable crema, every time.
New Vertuo cup size, Grands Crus and machines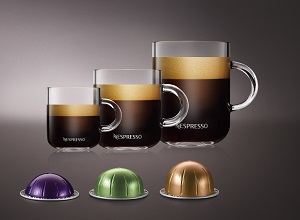 For the Vertuo launch in France, Nespresso developed a third cup size option. In addition to the large Mug (230 ml) and Espresso (40 ml), French coffee lovers also have the choice of Gran Lungo (150 ml). The dedicated Vertuo coffee range will start with 10 Mug, 4 Gran Lungo and 4 Espresso Grands Crus, with a decaffeinated option in each cup size.
As in the United States and Canada, the Vertuo system in France will complement Nespresso's existing Classic line. Both will continue to expand with new innovations the ways in which coffee lovers can enjoy their perfect coffee moment. Like all Nespresso capsules, the aluminium Vertuo capsules are 100% recyclable.
The Vertuo launch in France starts in October 2016 with two new machine models and the Vertuo Collection of stylish coffee drinking accessories.
Related stories:
Best Environmental Initiative: Nespresso France wins award for its recycling strategy
Our goal is to create a new premium coffee segment in North America
Nespresso sets to revolutionise North American coffee market