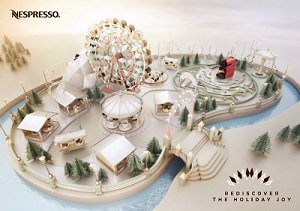 As the year-end celebrations approach, Nespresso is inviting coffee aficionados to rediscover the holiday joy this festive season. Inspired by the rich coffee house traditions of Vienna, we are launching three Limited Edition Variations coffees along with the Les Collections range of stylish accessories.
This year Nespresso has partnered with Milan based illustrator Lorenzo Petrantoni to create a unique design for our festive coffee accessories range - Les Collections. Known for his intricate graphic artworks inspired by the 19th Century, Petrantoni has created a simple but stylish pattern in festive black and gold which adorns the base of the Pure Collection cups and the Touch Travel Mug.
Festive Originalline Variations Limited Edition
Nespresso coffee experts have combined the splendour of Austria with the taste of some of its most famous pastries to create three delicious flavoured Espressos:
Variations Sachertorte
Nespresso celebrates the popular Austrian Sachertorte, a glazed chocolate cake with a thin layer of sweet apricot jam. Best enjoyed as an Espresso, Variations Sachertorte combines the balance and roundness of the Livanto Grand Cru with soft chocolate and apricot notes.
Variations Apfelstrudel
In Variations Apfelstrudel Livanto's balance and roundness is complemented with the rich aromas of pastry, baked apples and a hint of cinnamon.
Variations Linzer Torte
Nespresso pays homage to the popular Austrian Linzer Torte: a tasty red fruit tart topped with a recognisable lattice design. This Espresso is a delightful marriage of Livanto's balance and roundness with the taste of red fruits and spiced dough notes.
All three Variations coffees have an intensity level of 6 (on a scale up to 12) and are also available in special gift packs to indulge the senses.
Festive Vertuoline Variations Limited Edition
Some very special Christmas spirit will also be delivered exclusively to the US and Canada markets. Inspired by traditional American-style desserts and the roaming fireplaces, bright lights, and tempting smells of the holidays, Nespresso is introducing three Limited Edition VertuoLine Grands Crus. Each Variation is a smooth Arabica blend from Ethiopia, Central America, and South America and has an intensity level of five on Nespresso's intensity scale of one to twelve.
Variations Gingerbread
Spicy ginger notes are reinforced by cereal flavor in this smooth Arabica blend from Ethiopia, Central and South America for a gourmet break inspired by Gingerbread. The ginger flavors of this coffee are magnified with the addition of milk.
Variations Pumpkin Spice Cake
A wide range of spice notes, mainly defined by cloves, cinnamon and cardamom melts with sweet pumpkin flavor to create this smooth Arabica blend from Ethiopia, Central and South America for an indulgent treat inspired by Pumpkin Spice Cake. With milk, the spice notes are softened for a sweeter and smoother coffee.
Variations Banana Bread
Delicate vanilla notes and sweet banana flavors unfold in this smooth Arabica blend from Ethiopia, Central and South America for a delicacy inspired by Banana Bread. Adding milk enhances the sweet banana notes and brings forward a caramel aroma.
Festive Les Collections
This year's Les Collections range is full of one-of-a-kind gifts.
PURE Espresso Cups, Lungo Cups and Mugs (Limited Edition)
The PURE collection is made with the finest porcelain and has been skilfully designed so that the varying sized cups have a different thickness and a convex base to ensure optimum temperature and crema preservation.
TOUCH Travel Mug (Limited Edition)
The Limited Edition TOUCH Travel Mug in stylish black and gold design will keep your Nespresso coffee perfectly hot (or cold) whilst you are on the move.
REVEAL Lungo Glasses
The REVEAL Lungo glasses are an extension to the already popular REVEAL collection which includes REVEAL Espresso Mild and REVEAL Espresso Intense tasting glasses. Now, fans of a longer coffee will be able to enjoy any of the six Nespresso Lungos in the REVEAL glasses for an enhanced aromatic profile and intensified coffee moment.
TOUCH Sleeve Dispenser
A permanent new addition to the TOUCH collection is the Sleeve Dispenser designed by the Swiss design studio BIG-GAME. The dispenser displays six Nespresso coffee sleeves and is compact and convenient for the modern kitchen setting.
Delight for the taste buds
Nespresso has also developed two new chocolate recipes to delight the taste buds.

Dark Chocolate Raspberry Squares (Limited Edition)
Smooth dark chocolate is paired with raspberry flavoured crispy pieces to create an explosion of flavours.
Milk Chocolate Crunchy Corn Squares (Limited Edition)
When crunchy corn is introduced to milk chocolate, a subtle and unexpected match of flavours is created. These treats combine sweetness and roasted accents with a crisp and crunchy texture for a sensory delight that brings out the creaminess of the milk chocolate.