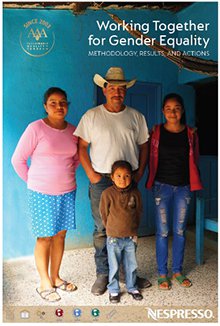 My wife will probably forget what she learns", (an Indonesian male workshop participant on the subject of his wife attending coffee trainings.
"I don't think she would like to attend. My wife does not like to come to the cooperative. She gets scared talking to people because she is uneducated", (a Guatemalan man).
Meanwhile, a female participant from Aceh said: "I am afraid to get more involved in coffee farming. If I prune the wrong way, my husband will get very angry."
These are some of the findings Nespresso AAA Sustainable Quality™ Program Gender specialist, Melanie Landthaler, learned when she was in the field interviewing farmers for the pilot of Nespresso's new gender analysis tool. The objective of this tool is to measure the level of gender equality within the Nespresso AAA Sustainable Quality Program™ coffee supply chain.
Gender equality can positively drive sustainability in coffee. Based on this premise, Nespresso developed a gender equality strategy for its AAA Sustainable Quality™ Program with the goal of implementing different initiatives that increase women's empowerment and reduces gender disparities.
Nespresso AAA Sustainable Quality™ Program Gender Analysis Report
Working together with TechnoServe, an international non-profit organization specializing in business solutions to poverty, Nespresso designed a gender analysis tool and field tested it in Indonesia, Guatemala and Ethiopia in 2017.
The final report was peer reviewed by experts from four different organisations such as the International Food Policy Research Institute (IFPRI), the Food and Agriculture Organization of the United Nations (FAO), the International Trade Centre (UN ITC) and IDH, The Sustainable Trade Initiative.
Nespresso AAA Sustainable Quality™ Program Gender Analysis Report is now available following its public presentation at the 122nd Session of the International Coffee Organization allowing the industry to benefit from the work already developed by Nespresso.
Ultimately, the goal is that the Nespresso AAA Sustainable Quality™ Program reaches and benefits women and men in an equal way, and this tool has become an integral part of Nespresso's Gender Equality Strategy for 2017 – 2020.