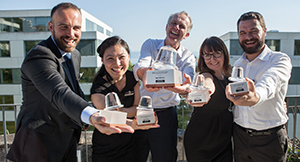 The Melbourne Business School (MBS) MBA students won the 2017 Nespresso Sustainability MBA Challenge in which other 87 teams from top business schools in 25 countries around the world participated.
Nespresso started the Sustainability MBA Challenge in 2013, jointly with its academic research partners the Intelligence Centre for Sustainable Markets (CIMS) and leading Latin American Business School INCAE. The Nespresso Sustainability MBA Challenge is providing the opportunity to engage with the next generation of business leaders enrolled in international MBA schools, increasing their awareness of the issues and opportunities around sustainable enterprise.
The Challenge is an important element of Nespresso's sustainability strategy - the Positive Cup - as it creates opportunities for collaboration, discussion and learning with experts in the academic community, while encouraging innovative solutions for key sustainability topics.
"Fostering talent and creativity is very important for Nespresso and we are delighted to see the continuous interest of schools to engage with this challenge" said Jean-Marc Duvoisin, Nestlé Nespresso's CEO. "It is a great opportunity to work with the next generation of business leaders and learn more about their fresh ideas.
Sustainability is at the heart of what we do at Nespresso so I was very interested to see how the students complemented our thinking, specifically on how to build sustainability into the employee and consumer engagement."
The MBS team of part-time MBA students Toni Kovacevic, Yuanyuan Zhao, David Creak and Maree Swinden were named winners at Nespresso headquarters in Lausanne, Switzerland after pitching to a judging panel of external sustainability experts, business strategists, academics as well as senior executives of Nespresso how to make recycling Nespresso coffee pods more convenient for consumers.
Borrowing from nudge theory and behavioural economics, the MBS team's winning idea encourages Nespresso to apply small changes to Nespresso's touchpoints with consumers and employees to increase their participation in sustainability initiative. Getting its consumers and employees on board, is critical to Nespresso in order to be the company of choice.
Judges were also incredibly impressed by the outstanding work submitted by runner up teams, Rollins College, Crummer Graduate School of Business, USA and Yale University, School of Forestry and Environmental Studies, USA.
"The three finalist presentations were inspiring and the jury eventually reached consensus about the competition winner as they successfully managed to propose a strategy which increases employees and consumers participation in Nespresso's sustainability initiatives," said Jerome Perez, Head of Sustainability of Nestlé Nespresso S.A.
The MBS winners will get the opportunity to travel to Costa Rica to meet farmers taking part in Nespresso AAA Sustainable Quality™ Program on the ground.
Speaking after her team's win, Swinden said the competition has been an "incredible" experience. "We didn't imagine we would get this far. We thought making the final three was success enough, but to win is amazing. The opportunity to present to the chief executives of one of the biggest companies in the world has been incredible. When is that going to happen again in our careers?" Swinden said.
Melbourne Business School Dean Zeger Degraeve congratulated his School's team on their success in the final with US teams from Yale and Crummer business schools.
"Competitions, such as the Nespresso Sustainability MBA Challenge, provide our students with opportunities to apply skills and knowledge, developed during their MBA studies, to solving problems that affect businesses and communities," Professor Degraeve said.
More information about the 2017 Nespresso Sustainability MBA Challenge is available at sustainabilitymbachallenge.com, and you can watch a video of the finalists here.