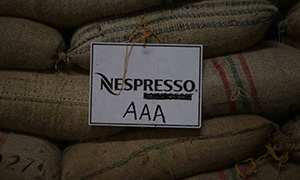 Today, Nespresso released its newest campaign, sharing some personal stories from the farmers behind the exceptional coffees it is known for. These heart-warming stories have been made possible thanks to Nespresso's uncompromising choices.
Nespresso believes quality does not happen by chance, but by choice. The search for the highest quality coffee has led to a series of choices, like the one to create the Nespresso AAA Sustainable Quality™ Program.
Created in 2003 the AAA Program works directly with farmers to create sustainable coffee farming practices that increase coffee quality, farmers' productivity and the viability of their farms.
Helping farmers save up to 5 hours a day with a community mill in Jardin, Colombia
Working directly with farmers in Colombia, Nespresso realized that coffee was processed differently on each farm, making it hard to guarantee consistent coffee quality. To address the issue, the Nespresso AAA Sustainable Quality™ Program worked with a local cooperative in Jardin to build a Community Mill, where farmers could bring their coffee cherries and have them transformed into coffee beans in the most consistent and qualitative way. But not only did the Community Mill help preserve the inherently high quality of the coffee, it did much more. Farmers were now able to generate more revenue thanks to their higher quality coffee, as well as saving precious time since the processing was centralised, and not happening on their farms. Today during the harvest, farmers can save up to 5 hours a day – time and energy they are able to reinvest in their families, communities and personal passions.
Meet the farmers behind the Nespresso coffees
Meet Humberto, a dedicated coffee farmer who benefits from the Community Mill. He has been able to support his daughter's passion for butterflies all the way to University where she is currently studying biology, thanks to the time and resources he saved by processing his coffee centrally. "Personally, I wanted Andrea to study to be a nurse but she can do whatever she wants. She loves nature and wanted to study biology. I just want her to do what makes her happy and I'm so proud of her."
Esteban used to process his coffee on his father's farm but today he benefits from the Community Mill. A young father of two, he now has more time to spend with his sons as well as volunteering as a fireman in his community. "I got into firefighting to help people," Esteban explains before talking about his family. "This is all for my sons, all my work is for them and one day it will be theirs. I couldn't be happier with the Community Mill. As long as Nespresso will buy my coffee, I'll keep selling it to them."
Luis can now pass on his passion for fishing to his son Mathias, spending much more time outside together. Another benefit of the Community Mill is it has improved water management practices and helped clean up rivers in the region: "Before, if you wanted to go swimming in the river, you had to leave your shoes on, that's how polluted it was. The Community Mill has had great impact on the community, we're helping to keep rivers clean and preserve the environment as a whole."
Alfonso Gonzalez, Nespresso Chief Marketing Officer explains "All these stories showcase just how much our choices to preserve the best quality coffee through a sustainable approach can have amazing consequences on the people who grow and nurture it. We wanted to bring them to coffee drinkers to help them understand what is behind the coffee they enjoy every day. In the end, we believe that we are the choices we make."
The full press release is available here