Cultivating gender equality in coffee farming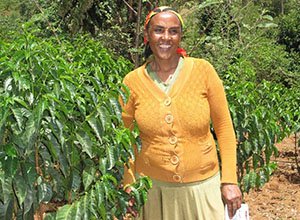 In the Ethiopian coffee district of Sidama, the air is heavy with the jasmine-scented aroma of lush coffee gardens, whose flowers are in full bloom. The Nespresso AAA Sustainable Quality™ Program is also in full swing here, with thousands of smallholder coffee growers learning best practices to make their farms more sustainable and profitable. A growing number of these coffee farmers are women.
Since 2013, Nespresso has been working in partnership with the non-profit organisation TechnoServe to implement its AAA Program in the east African countries of Ethiopia, Kenya and South Sudan. In addition to providing support and training in agronomy and farm management, a central focus of the program's work is fostering gender equality throughout the coffee value chain.
In Ethiopia as in many parts of the world, women play a vital role in smallholder agriculture. However, prevailing norms that consider coffee farming as "men's work" often exclude women from decision-making processes and prevents them from sharing in coffee revenues.
"Earlier statistics told us that 75% of the work in the coffee value chain in Ethiopia is carried out by women. But only 43% of the income is earned by those women. Women do a lot of the work in terms of farming, picking and managing, but when it comes to trading that coffee in the market place, it's a man's job," noted Mefthe Tedesse, the Ethiopian country director for TechnoServe.
This gender gap not only places women at a disadvantage – it also impacts overall farm productivity and income. On the other hand, studies have shown that the reward is much greater in terms of improving household decision making, nutrition and health and education of the household when women are included in development work.
Through the AAA Program, women are empowered to become farmer trainers and take leadership roles in coffee cooperatives. In Ethiopia, 40% of the AAA Program field agronomists are women. Husbands are encouraged to bring their wives, with training sessions held at times when women can participate. These deliberate choices put farmers at ease, so women are not too shy to attend, and men do not resent their attendance. When the program began, participation by women farmers was 1%; today it is more than 30%.
Says Mefthe: "It's not about favouring women over men. It's about making sure both have access to the same level of information, capacity-building work, resources and inputs."
Trusted and respected by the community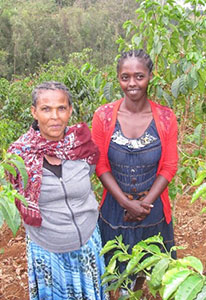 In the village of Hunkute, Kebabush is only 24, but she is already looked to with respect as a source of valuable information and advice. She is one of 44 field agronomists teaching some 18,000 Ethiopian coffee farmers good agricultural practices through the Nespresso AAA Sustainable Quality™ Program.
Like all of the field agronomists in the AAA Program, Kebabush comes from the village and district in which she teaches. Together with her husband, she also grows coffee on her own hectare of land. This common ground fosters a sense of trust as she helps to improve the livelihoods of her fellow farmers.
"I was raised in a coffee producing region, but I had no farm management skills. Now, between what I have learned and the money I earn as an AAA field agronomist, my own farm has become better and larger. I am happy because I was born here, and now I teach families from here."
One of the things Kebabush helps farmers understand are the benefits of "stumping", meaning cutting back the plants radically to encourage regeneration. While some farmers had already heard of the practice, without proper guidance they feared they would kill their trees.
By showing them concrete examples on a demonstration plot, Kebabush convinced farmers to begin stumping with a portion of their trees. They have seen first-hand that by stumping, along with proper composting and fertilising, they can at the very least double their production.
Best practices for best results
In the village of Haranchicho, Alamitoo is proud to be designated as the "Focal Farmer" who hosts a demonstration plot for the monthly training sessions. Here, the farmers in her community can see tangible results of what is possible when good agricultural practices are appropriately and consistently applied.
Before joining the AAA Program, the old coffee trees that Alamitoo and her husband inherited from their parents had produced nothing at all for three years. When she learned about stumping from the AAA Program agronomist, she boldly decided to try out this technique on their farm. After just one year, their trees were already flowering. With diligence and best practices, they are on their way to going from zero production to nearly quadrupling their yield since that first successful harvest.
Through the AAA Program, Alamitoo and her husband are working together to improve their farm, sharing all tasks. To protect against soil erosion, they planted new coffee trees along the hillside, as well as vetiver grass, whose long, thick roots also act as a natural water filter, trapping solid matter before it seeps back out into the rivers.
"In the past, we had been told to replant our coffee, but no one showed us what to do. Through the AAA Program we have learned many practical applications. They have changed my life and I appreciate that very much."
A story of growing success
Shuto is well known in Kinante Ero village for how she is transforming her coffee farm. Joining the AAA Program in 2013, the mother of nine was paired together with Nespresso field agronomist Balainish. Although Shuto had inherited three hectares of farmland from her husband, she was struggling with low yields.
Balainish advised her to renovate her ageing, unproductive coffee trees. In addition to pruning and weeding techniques, she also learned to intercrop with beneficial plants, providing shade and an additional source of food. Before, she fertilised with raw manure, not knowing how much better it could be if composted. Now she prepares a rich compost from ash, manure, soil, banana tree leaves, water and any other organic matter available.
Through the AAA Program, Shuto is gaining the knowledge, skills and confidence to unlock the potential of her coffee farm by increasing the productivity and quality of her farm, and her income along with it.
When asked about what she values the most about the AAA Program, she replies, "All of the good agricultural practices that I have learned. Ninety percent of my farm is planted with coffee. If I miss one best practice, it clearly impacts yield. But when I do it all correctly, it's almost as if I'm guaranteed to succeed!"
Related stories
Nalima Kariappa in India: Building on tradition to optimise sustainability
Lilia Vidal Vargas in Mexico: Strengthening community ties through the Nespresso AAA Sustainable Quality™ Program
Isabel María Chávez Quesada in Costa Rica: Putting values into practice with the Nespresso AAA Sustainable Quality™ Program
Two Colombian farmers explain their pursuit of sustainable quality coffee with Nespresso